Since Sunday is held the camping of the CNT-AIT which takes place every year in the first week of August.
It is an opportunity to get together in a friendly atmosphere to meet the companions and to live together a little of our creative utopia: reflections, leisure, cultural outings, sports activities…. as we see fit, in self-management.
Companions of the CNT-AIT of Figueres in Spain had informed us of the conflict that opposes them to the despotic boss of the Yelloh village camping of Colera (read here: http://cnt-ait.info/2022/07/29/camping-colera/)
During one of the campers' General Assembly, some companions proposed to make a symbolic action of solidarity, as there is a campsite of the same chain not far from where we are.
A meeting was given this morning to the interested people to realize a banner and an action. A workshop « reinforced banner and spray paint » allowed us to make a beautiful banner on which we read « Yelloh village Coléra = exploiters ». We photocopied a few leaflets in French and also in Dutch (because by looking on the internet we learned that many of the campers came from « flat countries »). By the way, a big thank you to the friends of the CNT-AIT across the border in Belgium who had translated the leaflet for us! This is internationalism in action! (French version of the leaflet: http://cnt-ait.info/2022/07/29/camping-colera/ Dutch version: http://cnt-ait.info/2022/07/31/camping-colera-nl/)
Then the small group went to the entrance of the campsite, splitting in two to cover both entrances.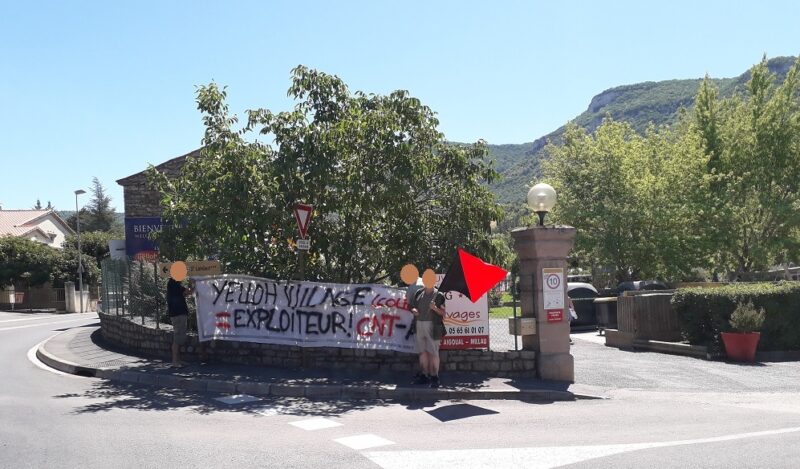 We barely had time to hand out a few leaflets to the campers entering and to unfold the banner at the main entrance, when we saw the campground manager arrive, panicking. Customers had informed him that there were problems at the campsite and that a demonstration was being organized. We informed him that our action today was actually aimed at the Colera campsite, which was part of the same chain as his campsite. He replied that his campsite was not involved in the case, which is true, but we pointed out to him that the behavior of the owner of the Colera campsite – in addition to the fact that he exploited and mistreated his employees – was damaging the brand image of all the Yelloh villages through his authoritarian behavior. We invited him to pass on the information to the franchise headquarters.
This kind of small action does not require great means and is within everyone's reach. If you also want to visit your local Yellow village, the map is available on the following page: